Fuchsia necklaces workshop
The class is split into approx. two 5-hour sessions so that it is not too long.
The timing of the workshop is evening in Europe, it is more suitable for European and American continent participants.
ONLINE live "felting together" sessions
part 1:
14th May 2022, Saturday,
5pm-10pm CET (8am-13am PST)
part 2:


15th May 2022, Sunday,
5pm-10pm CET (8am-13am PST)

ONLINE consultation session:
27th May 2022, Friday,
from 5pm CET (from 8am PST)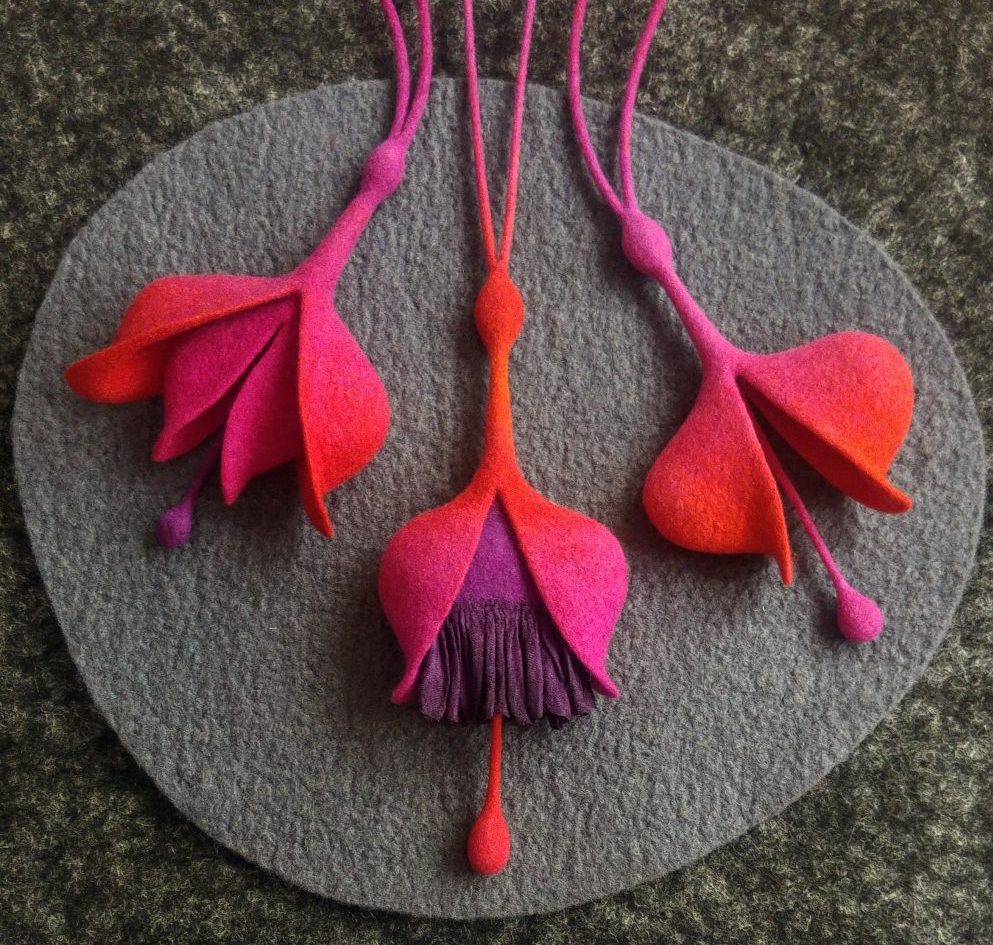 I will show you how I dye my wool to have the ombré effect. This will be covered in the PDF, not in the live class.

Creating the strings with two variants of endings (pebble, or  frill)

Making the pistil by wrapping a tiny pebble in wool

 Assembling and felting together two flower cups (two hollow shapes) and the pistil

 Decorating the inner flower cup with silk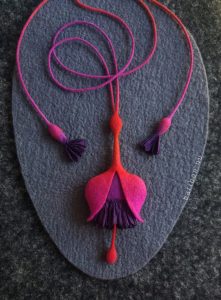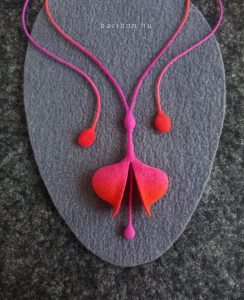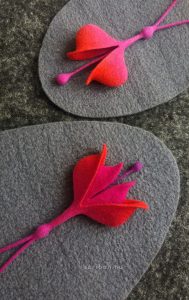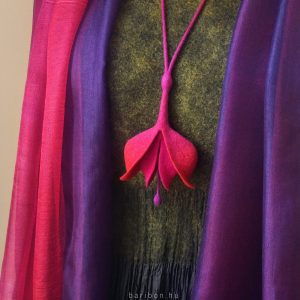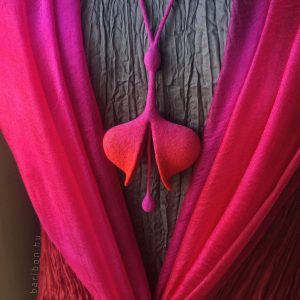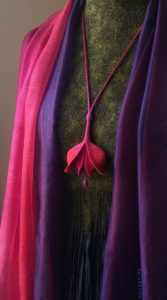 This is a felting course for experienced felters.

Should you lag behind, later you can watch the full workshop again because we'll record it – so you can work at your own pace.
The workshop package costs 140 EUR (152 USD), which covers the following items.
Two sessions of live workshops, approx. 5+5 hours
Photo-illustrated, printable PDF booklet…
The recorded material of the workshop…
2-hour live consultation session…
Access to a closed Facebook group…
Purchase the workshop package in the online shop and you can join the online course! (The payment can be arranged using credit card, paypal account or via bank transfer.)
You will get a secured link to a Zoom platform later, it will be activated approx. one week before the workshop.  Pls. check your mailbox (and spam folder also) to get all the letters regarding the course.
Reviews from the previous workshops
"What I loved about your workshop is that it was the next best thing to an in-person event. I loved seeing people as they were working, hearing the little comments and questions."
C.S (USA)
---
"It was informative, well produced, technically well excellent and the pdf is incredible. But most importantly it was personal and warm so that I feel like I spent a lovely day with friends. I feel very privileged to have learnt from you Anikó …"
B.R (UK)
---
"I can not thank you enough for your teaching ability, Andrea's beautiful translations and your attention to detail."
J.R (USA)
---
"One of the best workshops I have done, certainly the best in organisation. Couldn't fault it"
P.L (AUS)
If you're interested, more details to come…
TECHNICAL DETAILS
You can follow the course with the help of ZOOM app / program, which you can download for free to both desktop and smartphone.

During the course, images from three cameras will be set up so that you keep a close eye on every detail. If you wish, you can even ask questions at specific times (both in writing and/or orally). 

If you still can't / will not want to work along with me, you will have the opportunity to finish the necklace later: the full recorded material of the course will be accessible for you from the day after the workshop (for 3 months), so you can watch it again without any restrictions. Dozen days after the workshop day (the following Friday) I am inviting you for a consultation session where you will have the opportunity to ask questions and present your work if you wish.